Welcome to Page 2
I am glad to see you made it to page 2 of our Vegas trip. There are more pics of the people and some of the places we went. I hope you enjoy them.


Below is a picture of some of the gang. From the left is Robbie, Tracey, Linda, and Norma, and of course, Rick in the middle. Doesn't look like he is in too much pain, aye? :-)
Another great picture of most of the gang. From the left to right is Tracey, Linda, Robbie, Rick, Gina, and Dave. We stopped for lunch after walking a good part of the strip. Do we look a bit tired?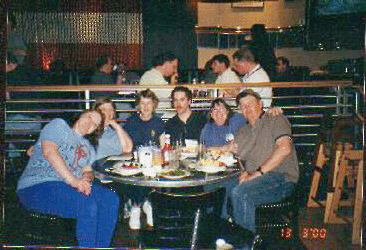 Here are some pictures taken at Beanie and Frank's house. The night we spent at their house was fantastic. They took Robbie, Tracey and I in with so much warmth and no questions asked. I must say, for never having met them before, it seemed like we had known each other for ages.

Please click on pictures to see the larger versions.

Here are some miscellaneous pictures. The first one is with Robbie's husband, Richard, and Tracey sitting on my couch at my house. The second is a picture of me in my house. The third is a picture of Robbie on one of our stops during our road trip. The fourth is Rick, Tracey, and Beanie, the fifth is Rick and Robbie at the Harley Davidson Cafe, the sixth is Norma and Beanie, seventh is Gina and Dave, eighth is Dave's hand, the ninth is Rick, the tenth is me, and last but not least is Robbie and the Pirates.. hehehe




E-mail: Netjunkies
Or Rick or Linda




Netjunkies©June 18, 2000.




[Home] [Vegas 1] [Vegas 3] [Memories]
[Netjunkies Info Page]



---
This page is hosted by Tripod.
Click the link above to get your own free site.




The midi playing is called My Friends.