Hi there! My name is Linda Anderson. I am the founder/moderator of the e-mail list known as Internetjunkies. On my right is my dear friend and co-owner/co-moderator, Rick. He has been an asset to me and this group since its start back in December of 1998.

This page is dedicated to the Junkies who were able to make it to Vegas. I am forever grateful for having the pleasure of meeting such wonderful people. We hope to do it again next year.

Please enjoy the pictures and meet some of the Junkies. Please click on the pictures to see the larger versions.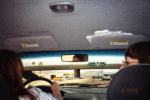 The 1,500+ miles of driving was fun because the three of us sharing the ride, got along pretty well. In the car with me is Tracey/Sis and Robbie. We sometimes laughed so hard it was not easy to drive, but it will be a memory that will last a life time.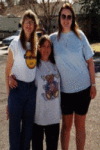 Tracey is on my right and Robbie is on my left. Can you guess where I am? hahahahaha Robbie sent me a note saying that her and Tracey were my bookends. That was cute. Thank you, Robbie.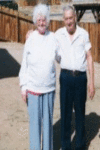 On our wasy to Vegas, we stopped in to visit a very sweet couple. They were also going to Vegas. The picture above is of Beanie and her husband Frank. We thank you for opening up your home to three strange ladies. [I mean strangers.. hehehe] We deeply appreciate your hospitatlity.
Now I would like you to meet Norma and Darwin. They are two pretty special people. Internetjunkies is full of some pretty special people. I thank goodness for all of them.
Another wonderful couple that met up in Vegas is Gina and her husband Dave. Hey Dave, talk to the hand..

There are more pictures on the next page. You can also get information about Internetjunkies from clicking on the main homepage. On there is a link to join if you wish to do so. We have a lot of talented people on the list. This list is more of a family. We all come from different walks of life and have our own opinions. We don't have to be the same or like the same things, but we show support where support is needed. Sometimes we just like to have fun.. Come.. check us out.